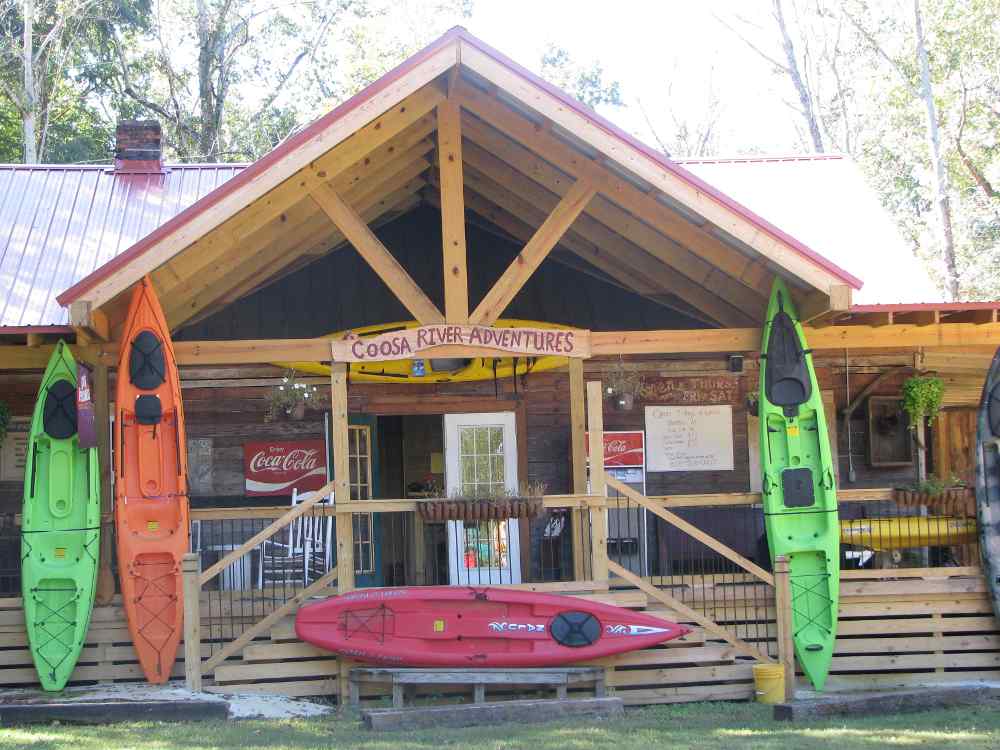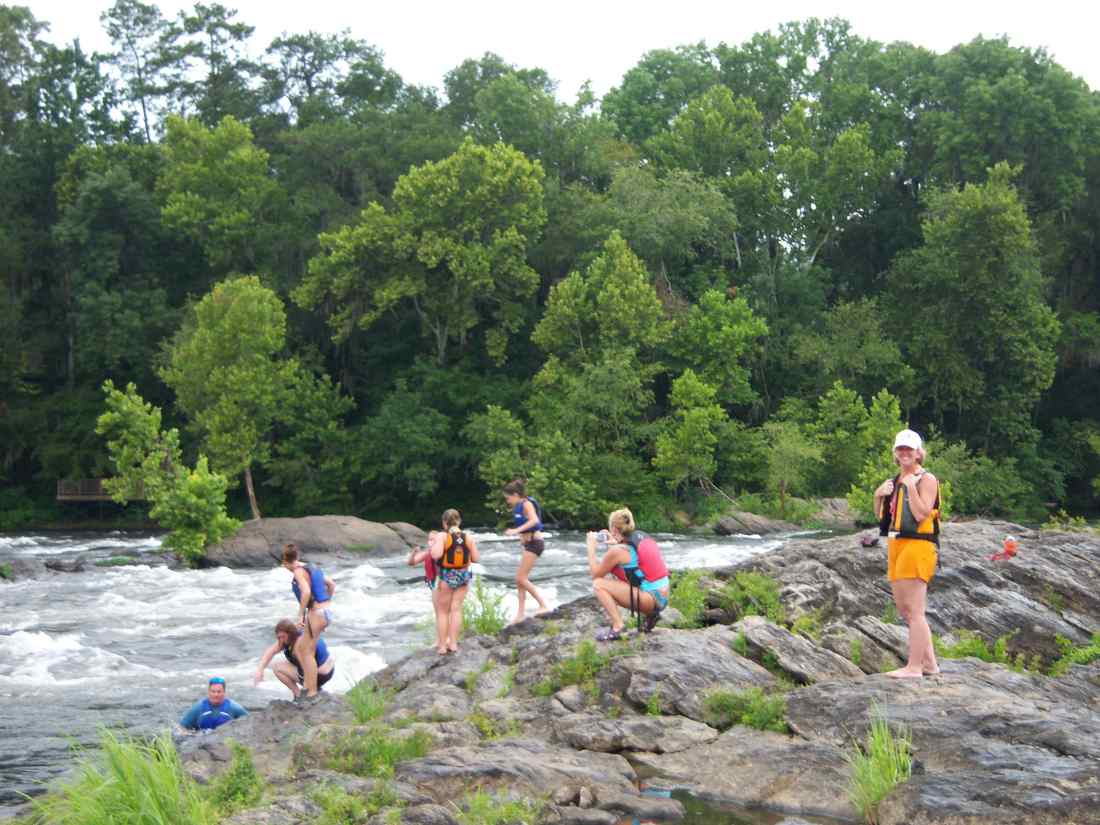 The 2019 Paddling Season Has Started. New for 2019 is our Coosa River Paddling Conditions Report. Classified as Green (Water Flow combined with the River Height should provide a great whitewater experience), Yellow (Water Flows and/or River Height may deminish your experience but trips are still available) and Red (Water Flows and River Height exceed what we feel are safe conditions - no trips availble). Check our Facebook Page for the latest Coosa River Condition Report or feel free to call to schedule your 2019 Coosa River Adventure!
2019 New and Used Boat Inventory Now Available! Huge savings on ALL BOATS in Stock!
Check out the latest Price List on the Boat Sales Tab! Call Today!
We specialize in Sit on Top Kayaks but carry Stand up Paddleboards and the largest selection of Pedal Drive Kayaks in the south.
Paddling the Coosa with You since 1995!
The South's Largest Sit on Top Kayak Dealer with Over 300 Boats in Stock!
Buy or Rent Quality New or Used Name Brand Canoes and Kayaks from:
Wilderness Systems, Ocean Kayak, Perception, Dagger, Native, LiquidLogic, NuCanoe, Old Town, Mad River, Jackson, Malibu Kayaks, and more!
Are you ready for adventure and excitement? The thrill of whitewater? How about kayak fishing? Thinking about buying a Canoe or Kayak? Then look no further than Wetumpka Alabama and Coosa River Adventures.
We at Coosa River Adventures can outfit you with a rental or sell you a new or used Canoe, Sit-on-top kayak, Sit Inside Kayak or Stand up Paddleboard. Rentals include boat, paddle(s), transportation to the launch site, and life jackets (PFD's). Trips average 3 to 4 hours and scheduling is a must. The numerous class II rapids (wide open clear channels easily paddled by novices) make the Coosa River a great first time whitewater experience. Come see what the Coosa River has to offer. Call us today to reserve your adventure!
Canoeing versus Kayaking versus Stand Up Paddleboarding!
Coosa River Adventures rents and sells Canoes, "Sit-on-Top" Kayaks, "Sit Inside" Kayaks, and Stand Up Paddleboards. So what are the differences? Let us explain...
| | | | |
| --- | --- | --- | --- |
| | | | Canoes - Most are familiar with canoes. Canoes are usually very stable, roomy and can carry a lot of equipment making them a great choice for multi day camping trips. Although Canoes don't sink, they can fill up with water (think of a bathtub) especially on the whitewater sections of the Coosa River. They can even get stuck/pinned underwater against rocks or logs. For these reasons we purposefully charge more to rent canoes for Coosa River trips. Once a canoe is full of water the paddler must 'bail' it out or if tipped upside down swim the boat to shallow water to right their boat. Sometimes part of the fun but most often not! |
| | | | |
| --- | --- | --- | --- |
| Sit-on-Top Kayaks - do not require any special skills such as an eskimo roll because the paddler literally sits on TOP of the boat (thus their name). Advantages of the sit-on-top kayaks are they don't sink or fill up with water, are easy to paddle and are just great fun in the whitewater rapids on the Coosa! One-person sit-on-top kayaks are ideal for anyone who likes to "chart their own course." Two Person sit-on-top kayaks are great for paddlers who may want to share the experience. Sit-on-Top kayaks are a much better alternative to canoeing especially in the whitewater sections of the Coosa River. We carry a wide range of sit-on-top kayaks from comfort to sport, tall or short, big or small, cruising or fishing. | | | |
| | | | |
| --- | --- | --- | --- |
| | | | Sit Inside Kayaks - traditionally when you hear the word 'kayak' this is what you envision. A boat with a hole in the top for which you sit down inside with your legs under the deck of the boat. There are recreational sit inside kayaks, whitewater sit inside kayaks and touring sit inside kayaks. Recreational sit inside kayaks tend to have larger cockpit openings thus making them less claustrophobic. Recreational sit inside kayaks tend to be novice friendly boats and often times you can carry a lot of gear below deck. We sell recreational sit inside kayaks as well as rent them for flatwater trips on the Tallapoosa River. Whitewater kayaks are shorter boats, have small cockpit openings, and the paddler often wears a 'skirt' to keep water out of the boat. Whitewater kayaks aren't for everyone, have little to no storage space below deck and require special skills to perform river (eskimo) rolls and tricks. We at Coosa River Adventures sell whitewater kayaks but we do not rent them. Touring kayaks are longer boats, have small cockpit openings, and the paddler often wears a 'skirt' to keep water out of the boat. Touring kayaks often feel 'tippy' to novice paddlers. They are faster than shorter boats and can cover great distances with less paddling effort. Because of their size touring kayaks can carry a lot of gear making them a great choice for long trips. We sell touring kayaks but do not rent them. |
| | | | |
| --- | --- | --- | --- |
| | | | Stand Up Paddleboards - range in size but all are much larger than surfboards. The larger size of a stand up paddleboard makes it stable allowing the the paddler to stand up. The paddler is not limited to standing. If they prefer they can kneel or sit down on the board. The paddler is equipped with a longer version of a canoe paddle. Stand up paddleboards range in price depending upon the material they are made from. We sell and rent stand up paddleboards for flatwater and whitewater conditions. |
Tote 'n' Float Program!
Need a Canoe or Sit-on-Top Kayak for the Lake or Beach? The regional area has numerous lakes,creeks, and rivers. Try our Tote 'n' Float program. Simply Tote one of our boats and Float your favorite waters. Same rental price, different scenery! Check out our Schedule/Rates page for all the details.
Looking for a longer trip?
We offer overnight trips on the Tallapoosa River. This 51 mile trip consists of flat and swift moving water. Bring your camping gear and spend the night on one of the numerous sand bars. We provide the shuttle to the put in on the Tallapoosa River and take out is at historic Fort Toulouse. Check out our Schedule/Rates page for all the details.
Schedule Today
Call:
Coosa River Adventures today at:
(334) 514-0279
to schedule YOUR adventure!!
Release Form
NEW!
Save some time and download our release form and fill it out before your trip
Click Here To Download
Keep the
Coosa Clean!
Do your part and preserve the Coosa's beauty. Some facts: It takes 400 years for a plastic 6 pack ring to decompose. During this time, fish and other wildlife may easily become entangled in the rings. In addition to being unsightly, plastics, fishing line, aluminum cans, glass bottles, and other debris also pose a threat to wildlife and the natural habitat.